Add some colour & positivity to our community!
Crock A Doodle in Stoney Creek and Crock A Doodle in Dundas are thrilled to be offering Smile Tile Kits to raise awareness and funds for the Canadian Mental Health Association from now until end December 2020.  Together you and your group can paint and play to create your own hand-painted positivity tiles to spread some love and kindness for those who need it most.
This is how it works …
Contact us to arrange for your Smile Tile Kits or purchase online at either of our studios

Stoney Creek – https://crockadoodle.com/stoney-creek/product/smile-tile-kit/

Dundas – https://crockadoodle.com/dundas/product/smile-tile-kit/
Paint the tile with your own one-of-a-kind design and message
Return painted tiles to us to be kiln fired to a shiny, durable, forever finish
Spread love and kindness with your Smile Tile by making a special delivery to someone you know, decorating your neighborhood, or keeping and displaying for all to see!
Crock A Doodle will donate $2 from every tile to CMHA Hamilton!
Enjoy a special tile painting event with your group virtually or physically distanced.  Each kit comes individually packaged with everything each painter needs to create their own special message.  Smile Tile kits are available to suit any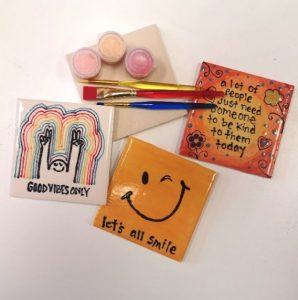 group size and make great gifts and fun rewards!
Not only will you be spreading messages of support and positivity across our community, but you will be fundraising for Canadian Mental Health Association at the same time!
Let's create more smiles here, there, and everywhere!