You are currently on the:
CMHA National
Visit our provincial websites
CMHA Hamilton is here to help
May 31, 2021
This Directory provides information on the current status of community agencies in Hamilton with regards to their service delivery during COVID-19.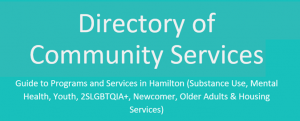 This resource provides a variety of information to support one's mental wellness and encourage social connection during this time of physical distancing. Included are supportive apps as well as social connecting games and resources and online information to help and support one's mental health.

This resource includes 50 practical tips to support one's mental well being while dealing with the Covid-19 pandemic.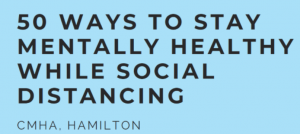 This sheet is meant to act as a guide to help you recognize some of the invitations that someone may be thinking about suicide and how to support them. If you are interested in learning more about how to support someone please follow the link included to become trained in the START program offered through Living Works. Also included are crisis supports throughout the Brant, Haldimand Norfolk, Hamilton, Halton, Niagara and Six Nations Communities.

We at the Canadian Mental Health Association (CMHA) want to welcome you to Mental Health Week and thank you for supporting mental health within your community! The theme of this year's Mental Health Week is social connection. Connecting with other people and our communities doesn't just feel good, it's good for our mental health. CMHA Hamilton has put together some resources and fun activities to
promote healthy behaviours and attitudes that foster well-being, support good mental health and help to create a culture of understanding and acceptance within your home and in your community.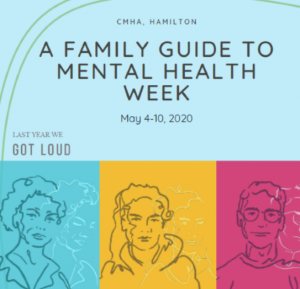 BEACON provides Cognitive Behavioural Therapy (or CBT), an evidence-based approach that helps improve many mental health concerns. BEACON is digital therapy that's there for you wherever and whenever you want it.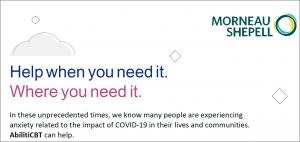 AbilitiCBT provides meaningful support to those struggling with anxiety, depression, and now anxiety related to a pandemic. AbilitiCBT is a therapist-supported, internet-based cognitive behavioral therapy (CBT) program. CBT is proven to be one of the most effective and efficient therapy methods.